Gregg,
Thank you for your response as your information is highly valued by myself and others.
I use cotton in the reproduction of my flags for several reasons.
1.In-expensive for the customer.
2.It last's way longer than silk.
3.Cotton is way easier to work with and allows less time spent on one project.
4.In-expensive for the customer(lol)
I seriously have seen quite a few flags made from polyester and it sickens me. What sickens me the most about it is that people are being charged large sums of money for those flags. I believe in a quality product for a reasonable price and cotton helps to achieve that goal so I appologize if I came off as heavily defensive as the use of cotton for U.S. flags. I have seen several examples of U.S. cotton flags on-line, in museum's and in person and that is where I draw the majority of my knowledge in what I can see in person and or in a museum. I think it meant more to the regiment itself to have thier flag made from the local towns people that some stranger far away, and I feel that made it more personal for all involved from the private all the way up to the Col. , plus it is way more understandable for someone to rally to a flag that was made by someone they knew.
Here are some examples I have used as models in the past: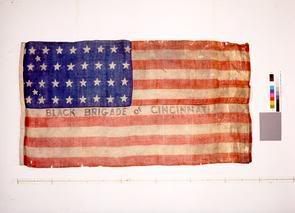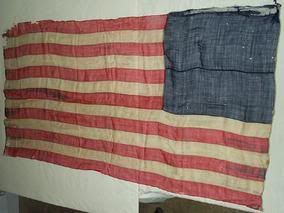 In todays times we do not depend on flags for symbols as much anymore as they did in the past, it was a way to identify who and what your regiment was, and I make sure that my flags try to represent those from the past to the best of my ability's.
Thank you
Todd Burnett